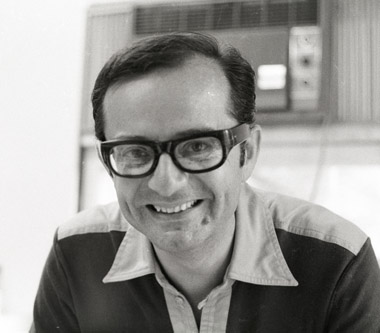 Neustupný in 1977
(Photo collection of Björn Jernudd)
Jiří Václav Neustupný (1933-2015) studied Japanese and History of the Far East at the Faculty of Philology, Charles University, Prague, Czechoslovakia. In 1964 he obtained CSc. (Ph.D.) from the Oriental Institute of the Czechoslovak Academy of Sciences and started to work there as a research fellow. He became professor of Japanese at Monash University, Australia, in 1966. After his retirement from Monash in 1993 he lectured in Japan at the universities in Osaka, Chiba and Obirin. Together with Björn Jernudd, he is a founder of the Language Management Theory. In 2013, Neustupný received the Order of the Rising Sun.
The arrivals of J. V. Neustupný and Björn Jernudd at Monash as announced in Monash Reporter, 1966, vol. III, no. 20 (pp. 2 & 3).
On the occasion of Neustupný's 80th birthday, his former colleagues and students wrote about Neustupný and their experiences with him:
Björn Jernudd's note published in the journal Slovo a slovesnost, 74, 2013
Hidehiro Muraoka's memories "A scholar's mind, an artist's sense"
Lisa Fairbrother's speech at the 3rd International Language Management Symposium, 2013
For more biographical details on Jiří V. Neustupný see "The portrait of a young linguist at the age of 65" by Mrs. Reiko Neustupný.
Photos of J. V. Neustupný
Click on the photo to enlarge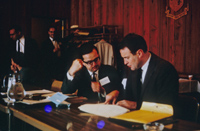 J. V. Neustupný (centre) at Airlie House Conference on Developing Nations, Warrenton, Virginia, 1966
Behind Neustupný: Joshua A. Fishman
(From a photo collection of Björn Jernudd)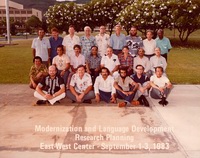 East-West Center, Hawai'i, 1983
Back row from left: Francis Mangubhai, Terry Crowley, Richard Baldauf, John DeFrancis, Paul Brennan, Björn Jernudd, John Lynch, Hoang Tue, E. Annamalai.
Mid row from left: Patrick Hohepa (kneeling), Robert Underwood, David Cressy, Anton Moeliono, Robert Kaplan, Bobbie Nelson, D. P. Pattanayak, Zhou Youguang.
Front row from left: Robert Gibson (sitting), Gregory Trifonovitch, Monsur Musa, Jayadeva Uyangoda, Jiří V. Neustupný, Bonifacio Sibayan
(From a photo collection of Björn Jernudd)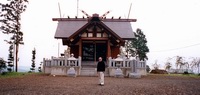 Neustupný in the 2000s(?)
(From a photo collection of Björn Jernudd)
Jiří V. Neustupný and Jiří Nekvapil, Japan, 2003
(From a photo collection of J. Nekvapil)
Photos of Neustupný in the Monash University archives:
Last updated: October 2015